VIRTUAL PHONE NUMBER. SIM-FREE PHONE NUMBER. EXTRA LOCAL OR FOREIGN NUMBER.
SIM-FREE PHONE NUMBER works without a SIM card and doesn't need an extra smartphone. Use it as a foreign number or as your extra local number for various matters. The quantity of numbers in one phone is unlimited! Find your SIM-free number in MoreMins app. Download MoreMins app and go to Account for your SIM-free number.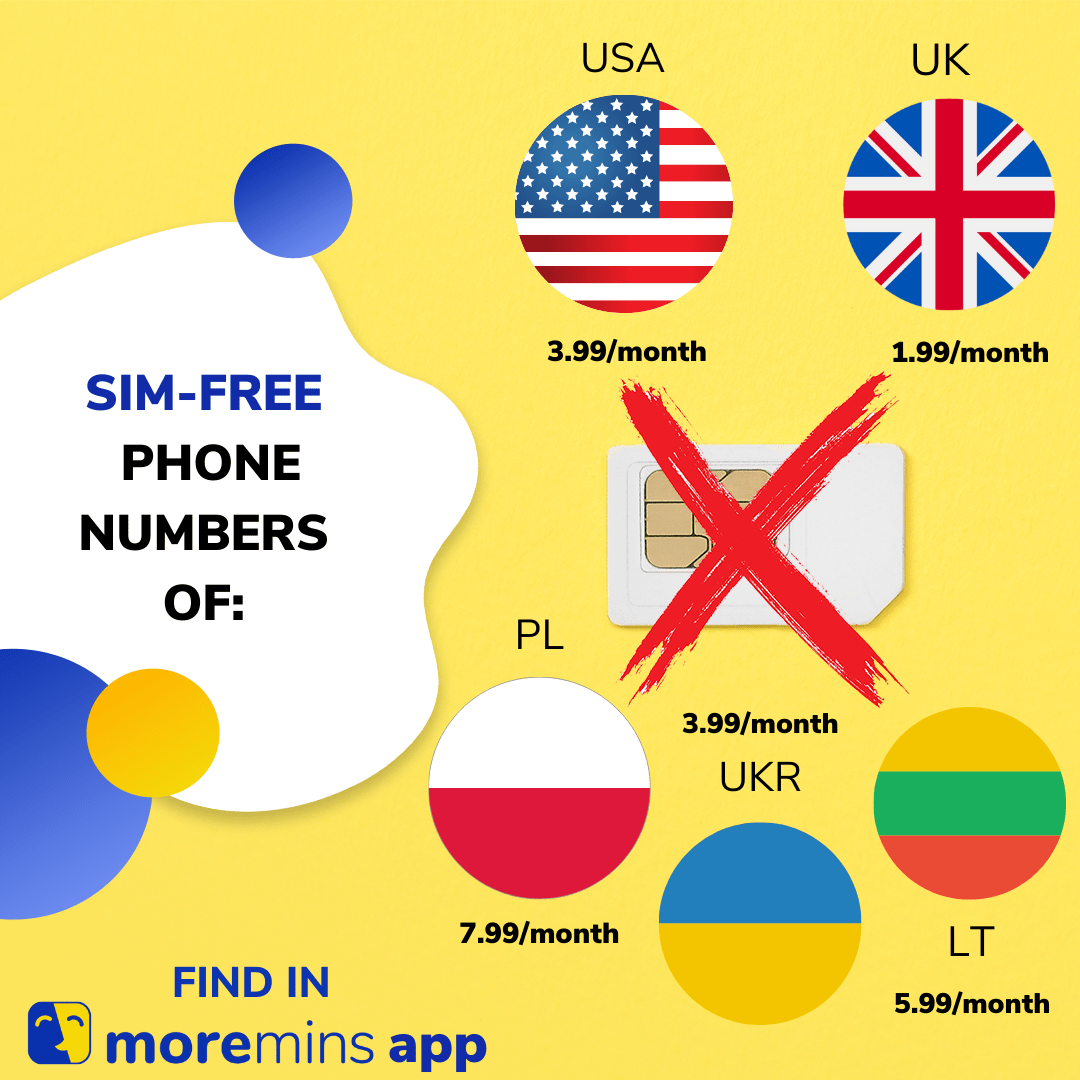 Use your virtual number for:
Work matters
Ads
Job search abroad
Dating sites
Loyalty cards
Registration and authorisation in social media, email platforms, websites
Sharing with people you've just met
Spam or as a backup/extra phone number, etc.

Situations when you don't want to share your private number.

If you live abroad, give it for your dearests back Home.
Prices:
United Kingdom (UK) virtual number - 1.99/month (

$ £ €)

United States (USA) virtual number - 3.99/month

($ £ €)

Lithuanian (LTU) virtual number - 5.99/month

($ £ €)

Polish (PL) virtual number - 7.99/month

($ £ €)

Ukrainian (UKR) virtual number - 3.99/month

($ £ €)

Finnish (FI) virtual number - 7.99/month

($ £ €)

Australian (AU) virtual number - 9.99/month

($ £ €)

Swedish (SWE) virtual number - 7.99/month

($ £ €)

Israel (ISR) virtual number - 4.99/month

($ £ €)

Thailand (THA) virtual number - 14.99/month

($ £ €)