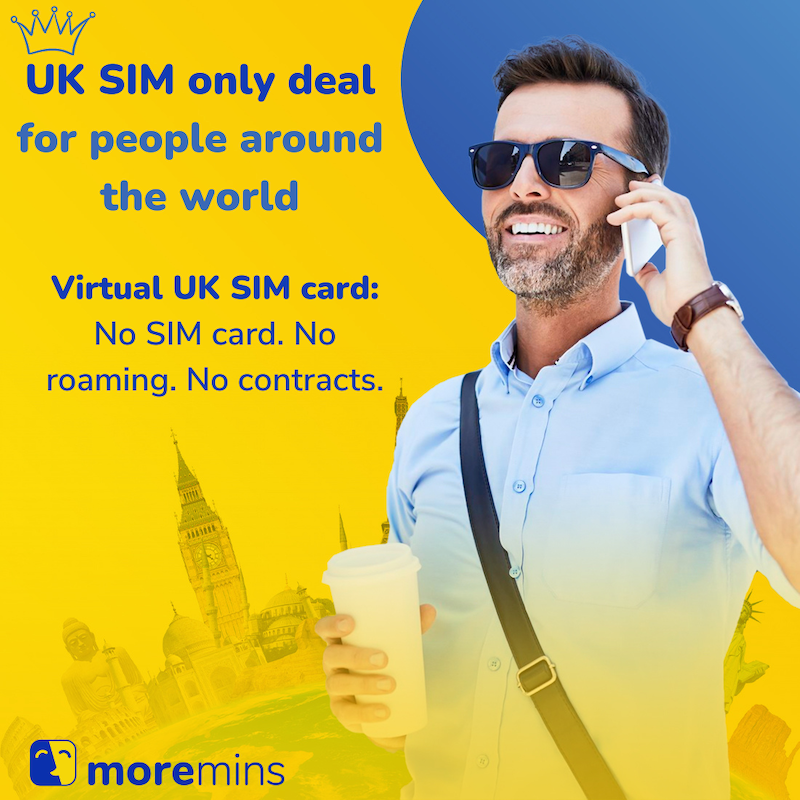 Are you overseas and need to keep in contact with the United Kingdom without breaking a bank? Or maybe you are planning to visit the UK?
In this case, MoreMins offers various prepaid services for you.
One of them is a UK SIM card (virtual) that can be ordered online and used online in any country.
A virtual UK SIM card is a new generation UK SIM only deal for people around the world. It can be ordered in 160+ countries.
A virtual UK SIM works as an ordinary UK SIM card with some additional perks.
A virtual UK SIM card works without a physical SIM card and without roaming fees in any country. This is why it is convenient for UK residents and foreigners.
It is also a prepaid service. There are no contracts and you can cancel it anytime.
✅ No physical SIM card
✅ No additional smartphone needed
✅ Works in MoreMins app
✅ No roaming charges
✅ Prepaid
✅ Get and use around the world instantly
Order UK SIM card online on MoreMins website shop ( click "Login or Register" on the website's main menu). Start using UK SIM card in a few minutes with MoreMins app.
A virtual UK SIM card for 5.99 ($£€)/month includes:
✅ UK virtual phone number
✅ UNLIMITED calls to UK and within the UK
✅ 50 free texts to UK numbers
It is possible to order UK SIM card services separately by ordering only a UK virtual phone number or cheap calls to UK or texts to UK.
MoreMins also provides prepaid mobile data for the United Kingdom - eSIM UK data.