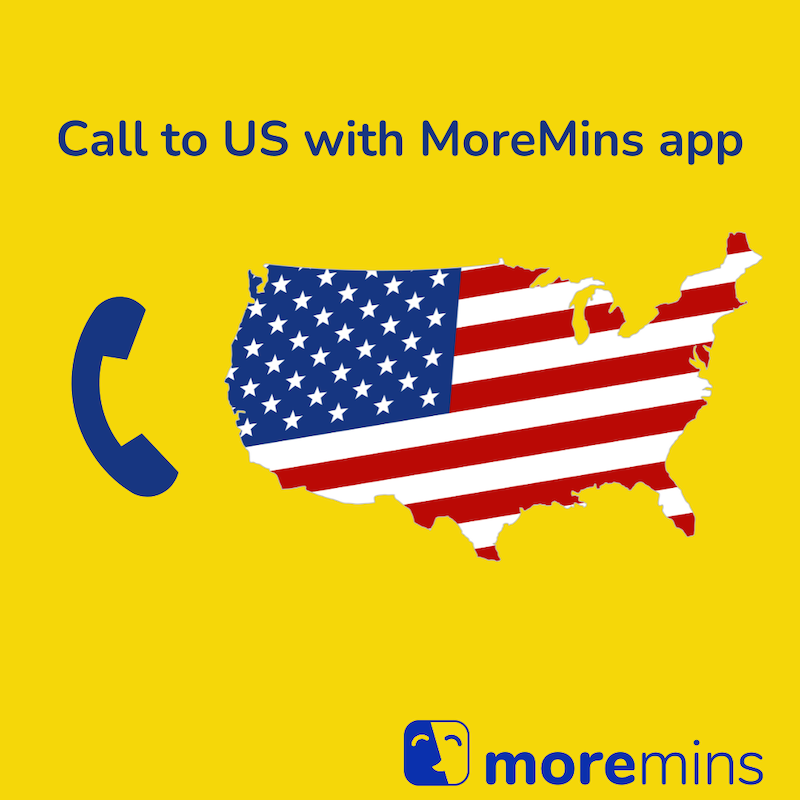 Call to US without spending a fortune. MoreMins offers you low calling rates and some additional perks (for example, US virtual phone number) to make your calls to US even more convenient.
Calls to USA
Make cheap calls to US with MoreMins app.
MoreMins rates for calls to US are really low - 1 c/min (1 p/min) or even less (from $2.49 /month for UNLIMITED calls).
MoreMins app calls straight to landlines and mobiles. It calls with or without the internet (it's up to you and the country you live in).
MoreMins app can be used in 160+ countries.
Download it to your smartphone and make a free test call.
If you like the service, add money to your account on MoreMins website shop (click "Login or Register" on the main menu). We wish you happy calls to US. More information about cheap international calls.
US virtual phone number in a foreign country
We all know the feeling when a foreign number looks a little bit suspicious... Sometimes call receivers do not even answer unknown foreign numbers. MoreMins has a solution for this.
MoreMins offers virtual phone numbers of more than 50 countries. Virtual numbers can be used for incoming/outgoing calls and texts. Even if you live overseas, be like a local with a virtual phone number.
You can get a US virtual phone number to make calls and send texts to US from a foreign country. Order and use US phone number in more than 160 countries. A US virtual phone number costs from $2.49 /month and works from MoreMins app.
US virtual phone number works as a normal phone number with some additional perks.
It works without a physical SIM card. And there are no roaming charges if you use it abroad.
This is why MoreMins US virtual phone numbers can be conveniently used in the US and abroad. More information about virtual phone numbers.
Virtual US SIM card in a foreign country

If both services (cheap calls to US and US virtual phone number) are needed, you can get them separately or order a full package.
MoreMins offers a virtual US SIM card for $5.99 /month. We call it all-in-one for a better price:
US virtual phone number
UNLIMITED calls to US
A virtual US SIM card can be ordered used in 160+ countries. More information about virtual SIM cards.
eSIM US. eSIM USA data for browsing

If you need data for browsing in the US, MoreMins offers cheap USA eSIM data. $4.99 for 1GB.
US eSIM is a prepaid service. Please check MoreMins eSIM data.