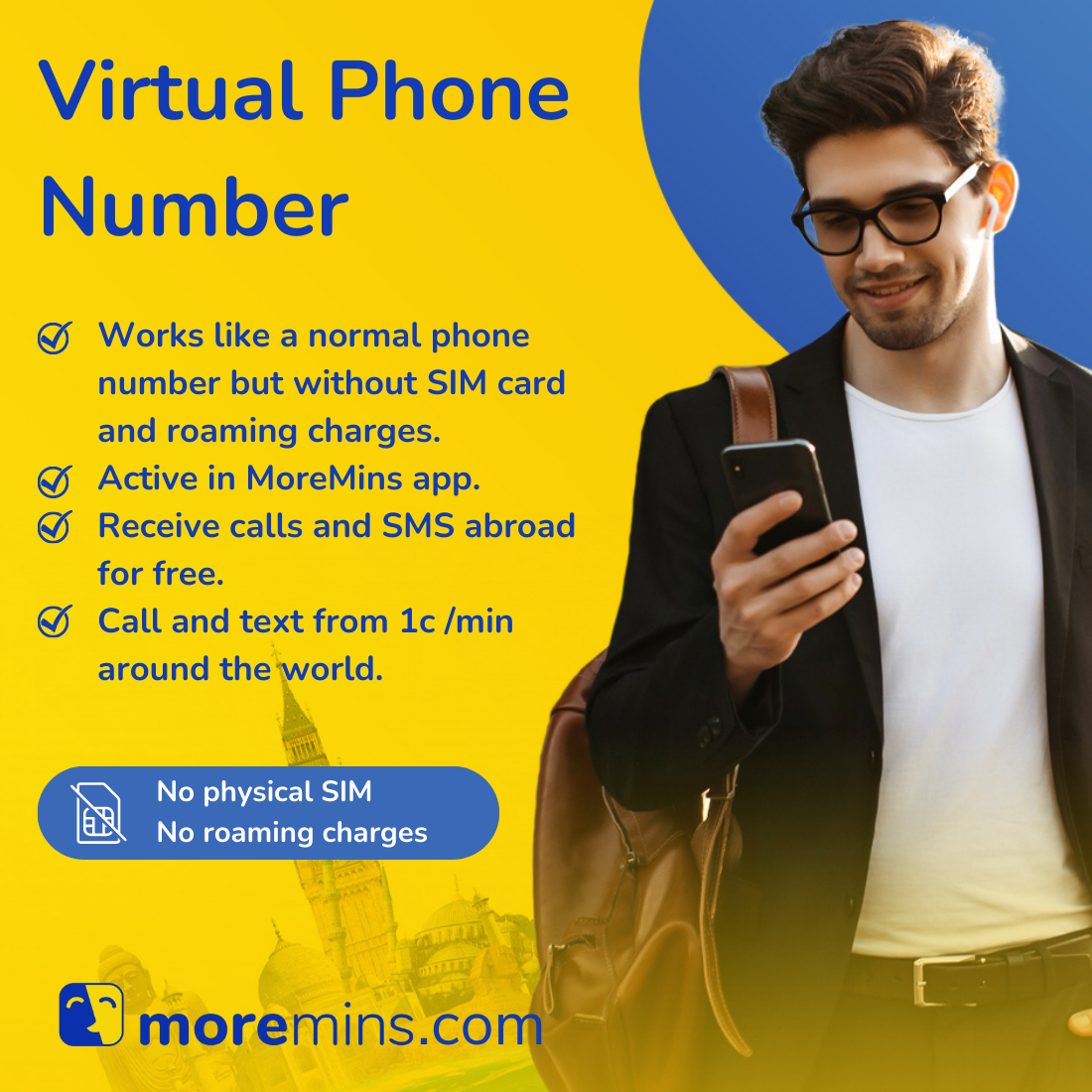 1. A virtual phone number works without a physical SIM card. It is active in MoreMins app which can be downloaded to any smartphone. You do not need to carry an extra device to use a virtual phone number.
This is why a virtual phone number is a convenient way to have a second (or a third, or a fourth,...etc.) phone number whether it is a local or a foreign phone number.
2. No roaming charges anywhere in the word. Virtual phone numbers work online. Sometimes they are called online phone numbers. Because of that, you can receive free calls (free texts as well) to your virtual phone number anywhere in the world. It is very important for international travellers or a foreign phone number users.
3. Start using in two minutes. No waiting. As MoreMins virtual phone number works without a physical SIM card, it can be ordered and activated completely online in a few minutes.
MoreMins virtual phone numbers can be ordered online on MoreMins website shop basically anywhere in the world (in 160+ countries, to be exact). After purchase of a virtual phone number online, download MoreMins app to your smartphone.
Start using your virtual phone number instantly. A virtual phone number will appear in your MoreMins app automatically after a purchase.
4. As many virtual phone numbers as you need in one app. You can have as many active virtual phone numbers as you need in MoreMins app. The quantity of virtual phone numbers in MoreMins app is unlimited. Whether you need one additional phone number or many phone numbers - MoreMins is the right place to start.
5. Use for incoming/outgoing calls and incoming/outgoing texts. Use a virtual phone number for calls and texts as any other phone number. Incoming calls and texts are free of charge anywhere in the world. Outgoing texts and calls are low-cost as MoreMins is a company which provides cheap international calls and cheap international texts. Check Rates in MoreMins website's menu. If you also need data for browsing, order MoreMins eSIM data and use it with MoreMins app as well.
6. No setup fees. No contracts. Instant cancellation. Many providers of virtual phone numbers have setup fees or some other additional fees. MoreMins do not have these. Our virtual phone number service is really cheap and do not include any hidden charges. Cancel MoreMins virtual phone number any time free of charge.
7. Protects privacy and nerves. These days nearly every service provider asks for an email and a phone number.
Then bombards us with ads and unwanted messages. Many people have a second email for junk and spam and share it with service providers online and offline.
But we do not have a phone number for the same purpose. A virtual phone number could be used in such cases to shield us from spam, ads, unwanted attention and to protect your privacy.
8. Helps to be local abroad. Whether you have a business abroad, look for a job overseas or travel in a foreign country, it is always convenient to have a local phone number. MoreMins virtual phone numbers can be a huge help. Leave your local virtual phone number to a local institution or local a restaurant while making a reservation. Contact people more easily as they avoid answering or calling back to a foreign phone number.

9. Very cheap (the cheapest?) UK virtual phone number. As far as we know, MoreMins UK virtual phone number is the cheapest in the world. It costs from 0.49 (dollar, euro, pound)/month - not even a whole dollar! This price includes UK virtual mobile number, free incoming calls/texts and 15 cents bonus to try our outgoing calls and texts.
Yes, your first outgoing calls and texts are on MoreMins!
If need even better prices, check MoreMins UK virtual SIM (UK virtual phone number + unlimited calls to UK + 50 texts to UK). Get all-in-one for a better price.

10. Cheap US, Netherlands, Cyprus, Sweden and other countries virtual phone numbers. MoreMins provides virtual phone numbers of 50+ countries. Check the prices of MoreMins virtual phone numbers near the Rates on MoreMins website. Read more information about MoreMins virtual phone numbers on MoreMins website.

If you need a virtual phone number and unlimited calls to a certain country for a better price, check MoreMins virtual SIM card. It can be just the thing you need. MoreMins provides UK, US, Polish, etc. virtual SIM cards.